Searching for corporate roadshow services along with cheap chauffeur service near me in Long Island & Executive Limo Service New York City? Get all information related to the cheapest car chauffeured service in Long Island at GTS Tranportation Inc. For a quick discussion, Call us or Contact Us!
New York Corporate Roadshows Service
Roadshows are the backbone of the corporate crew & we understand it. The business coin has two sides; marketing & selling. When you want to avail this opportunity in form of a roadshow with anything at your disposal, then GTS Transportation Inc. as a reliable Executive Limo Service New York City will help you in making your roadshow a victory. Meet professional experts here who will never compromise with the services, your time, safety, & comfort. Our staff facilitates you from picking up the best Limo & crafts the customized routes with multi drop-offs. For this reason, we are famous roadshows specialists in NYC & Tri-state area as well.
#1 Roadshow Car Service in NYC With Cheap Chauffeured Service Near Me
There are variations for the corporate roadshow from customer to customer. Sometimes, company executives need a full-day roadshow service when they have different conferences. While on other hand, a roadshow may involve only picking up the corporate executives and dropping them at their meeting place comfortably. After all of the above, one thing needs consistency; Customer Service!
GTS Transportation Inc. Limo services always have its contingency plan ready to go in the 11th hour or for the last-minute change. To keep following company protocol, we have all pre-programmed destinations in our navigation system. Also, if our respected clients are looking for a cheap chauffeured service near me at the last moment, they can hire us. Hence, our respected clients can keep up our Executive Limo Service New York City with their schedule. For this reason, our roadshows' services are successful.
Our Roadshows Chauffeured Services coordinates with the company from a to z before the roadshow travel begins. As a matter of fact, GTS Transportation Inc. lets you select the best luxurious car from our fleet and professional chauffeur.  So what are you waiting for? book the cheap chauffeured service near me for corporate travel for better transport management.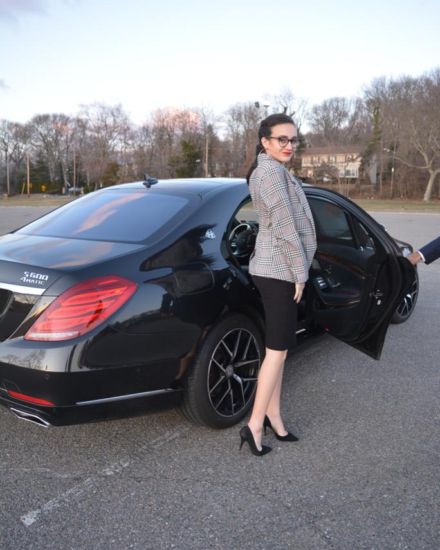 NYC Corporate Roadshows Specialist
GTS Transportation Inc. aims to provide an on-time pickup/dropoff facility in the form of luxurious transportation & all-day assistance with certified chauffeurs to esteem clients to make their roadshows successful.
As the best Executive Limo Service New York City, managing thoroughly from car selection to décor, food to cake, music to premium features & excellent services according to the requirements of the client. It is worth saying that our cheapest chauffeured service in Long Island has made the events worth commemorating.
Above all, we take care of the safety while accomodating Executive Limo Service New York City. Contact us if you are looking for a cheap chauffeured service near me and get professional services with maximum benefits.
Features of Roadshow Executive Limo Service New York City
We have been offering Roadshows Executive Limo Services New York with trained chauffeurs from chief executives to financial staff for years. Our trained chauffeurs for Roadshows Limo Service New York City coordinated major events like Goodwill Games, S. Open, Grammy Awards, Essence Awards, & ESPN Awards. Making a service swift can make wonders with timely steps.
Availability of assistance for prior roadshows reservation.
A real-time coordinator is available for regular checks on travel schedules.
Availability of support assistance for the traveler.
Availability of professional, licensed, experienced, & well-mannered chauffeur.
Immediate availability of team to provide a delightful experience.
 Roadshow Business Limousine – Our Fleet
Luxury Sedans
Standard-Sized Limousines

Stylish Passenger Coaches

Stretch Limousines
SUV Limousines
Luxury Vans
Party Busses
You can select & reserve any vehicle from our fleet according to your event. If you plan a trip to another city, you are a click away to choose our company as we offer a 24/7 transportation service. Furthermore, it can be hectic for you to drive for consecutive hours. So, you can hire us for Executive limo service in New York City. We are the solution for anyone who is looking for Cheap Chauffeured Service Near Me. 
Navigate Your IPO Roadshow With Roadshow Limo Chauffeurs
We GTS Transportation is navigating your journey, you or our corporate client can sit and relax. Because we get in touch with your hotel management and keep our chauffeurs updated about all the required information. Moreover, our chauffeurs are always hospitable to clients & dress up inappropriate attire. Additionally, we offer Roadshows Group Travel to our respected clients.
So, for corporate travel, you can get limousine service at a reasonable price at smaller airports like Portland International Jetport Airport or Charleston International Airport. You can check our limousine prices in major cities like New York City, Chicago, or Los Angeles, and the limo prices are higher in big cities than in smaller ones. However, you can choose a limousine according to your choices.
GTS Transportation

 is the cheapest limo chauffeured service in Long Island in New York City. 
So, You can contact us anytime easily. Also, you can visit us through the 

map

.
Areas We Serve In:
We are available in Huntington, New York, Huntington station New York, Lloyd Harbor, New York, Tri-state New York, Long Island New York, Cold spring harbor, New York, Syosset, New York, Center port New York, green lawn New York, East north port New York & Commack New York.