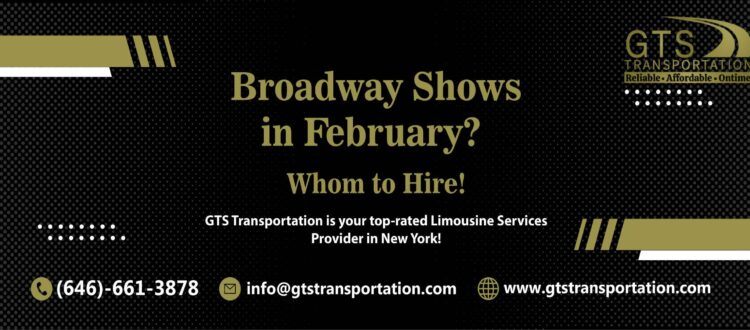 Broadway Shows in February? Whom to Hire!
Looking for the best limousine services for Broadway shows in February? Hire us for luxury limousine services in New York, USA. 📞 (800) 439-0487
February is a great time to visit New York City and take in Broadway shows in February. But navigating the crowded streets and finding parking can be a hassle. That's where GTS Transportation comes in. With various transportation options, GTS Transportation can help you make the most of your Broadway experience.
Luxury Transportation For A Memorable Night Out
Consider hiring a luxury limo from GTS for a special night out. You and your guests will enjoy a comfortable ride to the theater in style, and you won't have to worry about parking or navigating the busy streets. Plus, you can sit back, relax, and enjoy the ride with a professional chauffeur at the wheel.
Minibus & Sprinter Van For Groups – Whom To Hire For Broadway Shows In February?
GTS Transportation has various Minibus and Sprinter Van options if traveling with a larger group. Whether you're attending a matinee or an evening show, we can provide reliable and comfortable transportation for your group. With amenities like air conditioning, comfortable seating, and ample storage space, the Mercedes Sprinter is the perfect way to get your group to and from the theater.
Safe & Reliable Transportation For Broadway Shows
At GTS Transportation, safety is our top priority. All our chauffeurs are highly trained and licensed, and our vehicles undergo regular maintenance and safety inspections. Therefore, you can rest assured that you and your guests will arrive at the theater safely and on time.
Expert Knowledge Of NYC From Our Professional Chauffer
Navigating the streets of New York City can be tricky, especially if you need to become more familiar with the area. Fortunately, our chauffeurs have expert knowledge of the city and can help you get to the theater quickly and easily. We can also recommend restaurants and other attractions in the area so that you can make the most of your visit.
Offering Personalized Service for Our Customers
At GTS Transportation, we understand that every customer has unique needs and preferences. That's why we offer personalized service to ensure your transportation experience is tailored to your needs. Whether you need a particular pick-up time or have special requests for amenities, our team is here to help.
A Variety Of Vehicle Options Depending On Your Needs & Preferences
GTS Transportation offers a variety of vehicle options to choose from, depending on your needs and preferences. We have something for everyone, from luxury sedans and SUVs to stretch limousines, Minibus and Sprinter Van. Additionally, our vehicles have modern amenities like Wi-Fi, entertainment systems, and more.
Affordable Pricing With Luxury Transportation For Everyone
At GTS Transportation, we believe that luxury transportation should be accessible to everyone. Moreover, we offer affordable pricing on all of their transportation services. Whether you're looking for a budget-friendly or more luxurious ride, we have options to fit your budget.
Book Your Broadway Transportation Today
Don't let transportation woes ruin your Broadway experience. Moreover, with GTS Transportation, you can sit back, relax, and enjoy the show. Furthermore, you can visit or Call Now at +1 800 439 0487 to book your transportation today or on our contact us page and experience the best New York City Broadway Shows in February!