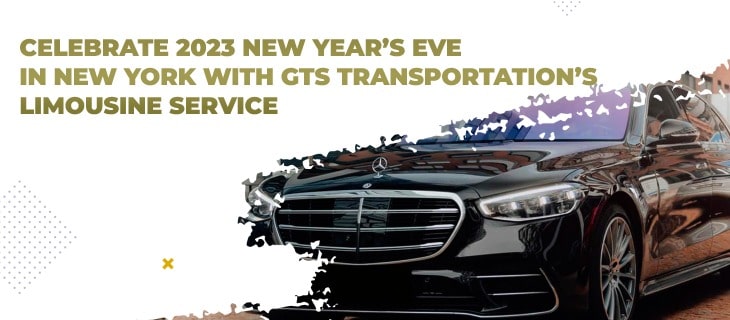 Celebrate 2023 New Year's Eve in New York With GTS Transportation's Limousine Service
Did you want to Celebrate 2023 New Year's Eve in New York? It's time to begin implementing the strategy seriously. A lack of adequate transportation arrangements could derail all the planning and excitement for 2023. Celebrate 2023 New Year's Eve in New York In Limousine. You should carefully consider your Long Island limousine service needs for this time. On New Years' Eve, there will be a lot of events, and many people will be on the go. You can get stuck anywhere if you need to make the proper transit plans. However, it would be best if you didn't worry because GTS Transportation is a successful company. You may rely on us for high-end luxury LIMO service on that day.
GTS Transportation New Year's Eve Limo Packages NYC
On New Year's Eve, Times Square is, without a doubt, where you need to be. The globe will turn its attention to Times Square on this momentous occasion as the clock approaches midnight on December 31 to take in the beautiful, blinding light and the vibrant excitement. Times Square serves as a metaphor for the anticipation of this memorable day. You will undoubtedly have a fantastic New Year's Eve at this event, featuring star-studded musical performances, giveaways, a vibrant fireworks display, balloons, confetti, and up to a million attendees. Are you excited to celebrate at Times Square with all its beauty and excitement?
New Year's Eve Fireworks With GTS Transportation NYC Limousine
Our Long Island Airport Limo Service will be there for you if you want to ring in the New Year in Las Vegas. For New Year's Eve celebrations, Las Vegas is a favored choice. You won't regret picking this location for your New Year's Eve celebration because of the incredible star-studded concerts, special dinners and parties, and the best and hottest DJs in the clubs. We'll have our limousine packages available, so you won't have to stress about how to go to any of the exciting places in Las Vegas.
Experience The New Year's Eve Fireworks Near The Statue Of Liberty While You Enjoy Your Cruise
As you ring in the new year, enjoy an unforgettable and opulent New Year's Gala on the ocean. The Atlantis Yacht has the appearance of a sophisticated private yacht. This is unquestionably it if you're looking for unusual entertainment. As you patiently await the arrival of the New Year, examine the yacht's stunning and modern design. Do you have any concerns regarding how to get here?
Our extended black limo will perform the job well, so don't waste your time. Make a good impression when you arrive at the port in a classy Long Island limo rental. Arrival is at 8 o'clock, and departure is promptly at 9 o'clock. After the pleasant voyage, you can plan on returning in the morning. But don't worry; when you arrive at your destination, our chauffeur will be waiting for you in a luxury Limo service on Long Island. While on your trip, you can view the New Year's Eve fireworks close to the Statue of Liberty.
So, Book us now and enjoy your New Year's Eve 2023.
Check our reviews on Google or contact us via email or call.