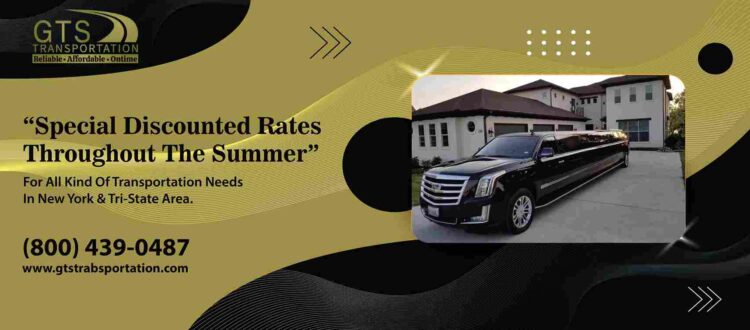 Special Discounted Rates Throughout The Summer For All Kind Of Transportation Needs In New York & Tri-State Area
The arrival of summer brings the promise of sunshine, good times, and a wide range of engaging activities to attend. Whether you want to go on a trip with your family, have a romantic break, or need to move around town.
Special Discounted Rates Throughout The Summer
GTS Transportation is pleased to announce special discounted rates throughout the summer for all your transportation needs in New York and the Tri-state area. Whether you need a ride to the airport, a corporate event, or a night out on the town, we have a transportation option that fits your needs and budget.
Comfy & Convenient Airport Transfers
Traveling can be a hassle, but with our airport transportation services, you can rest easy knowing that you will arrive at your destination on time and in style. Our experienced chauffeurs will quickly pick you up from the airport and take you to your hotel or other destination. With our special discounted rates, you can save money while enjoying the comfort and convenience of our airport transportation services.
Corporate Transportation – Efficient & Reliable
At GTS Transportation, we understand that time is money. That's why we offer efficient and reliable corporate transportation services to help you stay on schedule and maximize your productivity. Our team of experienced chauffeurs will ensure that you arrive at your meetings and other appointments on time, every time. With our special discounted rates, you can save money while getting the professional and courteous service you deserve.
Special Events With Memorable Moments
Summer is in the air, and so are the sounds of wedding bells, music festivals, and other special events that mark the season. If you're attending an event in the Tri-state area, don't let transportation be a headache. GTS Transportation is here to take the wheel and ensure your journey is as memorable as the event.
Picture this: you're dressed to the nines, ready to make a grand entrance at the wedding of the year or the concert of your dreams. You step outside and are greeted by a sleek, luxury vehicle waiting just for you. Furthermore, you settle into the plush leather seats and sip a cool drink as your professional chauffeur navigates the busy streets easily. You arrive at your destination feeling relaxed, refreshed, and ready to make memories that will last a lifetime.
Sightseeing Tours In NYC
The city that never sleeps is calling your name this summer! From the bright lights of Times Square to the iconic Statue of Liberty, there's no shortage of incredible sights to see in NYC. But with so much to explore, navigating the busy streets can be overwhelming.
Imagine cruising through the bustling streets of Manhattan in the comfort of one of our luxury vehicles. At the same time, your driver points out all the must-see landmarks along the way. From Central Park to the Brooklyn Bridge, our sightseeing tour will take you to all the best spots. And we allow you to soak in the city's sights and sounds at your own pace.
Group Transportation
Traveling with a group is a great way to share unforgettable experiences but can also be a logistical nightmare. Coordinating transportation for a large group can be a headache, but not with GTS Transportation.
We design our group transportation services to give you a stress-free experience so that you can focus on enjoying your trip. Whether you're traveling with:
Family for a reunion
Friends for a weekend getaway
Colleagues for a corporate event
All sizes of groups can ride in one of our vans or buses.
Reserve Your Transportation Now
Be sure to book your transportation for the summer before the last minute. Contact GTS Transportation today to take advantage of our special discounted rates. Our customer service representatives are available 24/7 to assist you with your transportation needs. Visit us on Google Maps as soon as possible! If you want to enjoy a Luxury journey Call us Now!