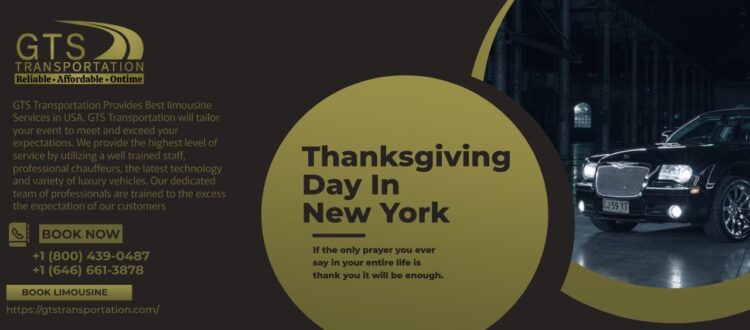 Where To Book A Limousine Service On Thanksgiving Day In New York?
Let's enjoy Thanksgiving in New York and travel through our luxury New York City limousine at cheap rates in the United States. 📞 (800) 439-0487
If you are planning to go out with your loved ones and celebrate Thanksgiving Day in New York, hire a limousine service to enjoy your ride in the limo on this special day. Here, we will discuss the best places in New York to keep your family and friends entertained this thanksgiving.
Macy's Thanksgiving Day Parade
For many, the Macy's Thanksgiving Day Parade is a holiday tradition at 9 am. Attendees can view the parade live from several spots. The most popular is near Central Park West and 72nd Street. To get one of the coveted viewing spots, it is essential to arrive as early as possible often before sunrise or risk not having a good view of the floats and performers for that day. Viewing spots can be found on Broadway, between Columbus Circle and 34th Street, for those who are okay with waking up early.
Winter Village At Bryant Park
Bryant Park transforms into a winter wonderland every November and December, with hot cocoa stands, children's activities, carolers, and a giant Christmas tree. Although there's a place you can go for a 17,000-square-foot rink for free. You'll still have to pay for skate hire, so bring your own! The winter village also offers artisanal boutiques, unique gifts, and delicious food from local vendors. The best time to enjoy the surroundings is between 8 am to 10 am.
Pilgrim Pedal
If you love to travel in New York City limousine or want to enjoy this thanksgiving with your friends or family, the pilgrim pedal is a place for you. This Thanksgiving morning limousine travel, start and end in Manhattan with a stop for breakfast in Brooklyn halfway to enjoy pancakes. Also, you will be awarded prizes.
Big Apple Circus
The Big Apple Circus, a famous performance for families, will be on November 25-27. The Big Apple Circus is located at Lincoln Center from 10:00 am to 6:00 pm, with the last show starting at 5:00 pm. Furthermore, This event includes world-class acts like high-wire acrobats, clowns, contortionists, and a flying trapeze artist. The holiday season is a time for family, friends, and good food. Getting around can be a hassle with so much to do and so many places to go. If you're looking for a way to simplify your travel, look no further than our cheap limo service near me at GTS. With years of experience, we offer reliable transportation solutions guaranteed to make your holiday much more enjoyable.
The GTS team is always striving to improve its service by staying up-to-date with the latest developments in the industry. Our professional chauffeurs will get you where you need to go in comfort and style. Moreover, if you want to explore NYC without wasting hours searching for the perfect location. And, if all of these things sound like what you need, call us today!
So, who would like to miss out on such benefits? Book us now
Check our reviews on Google or contact us via email or call.