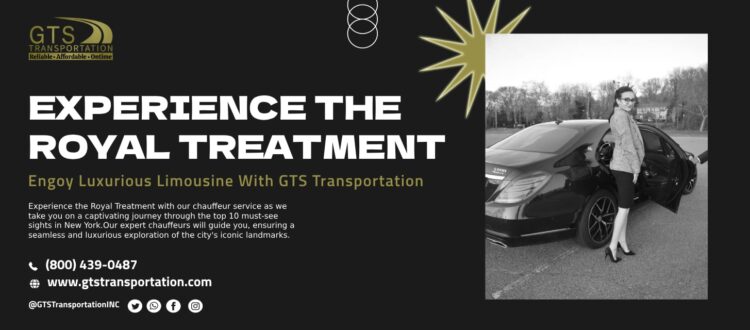 Experience The Royal Treatment: Top 10 Must-See Sights In New York With Our Chauffeur Service:
Experience the Royal Treatment with our chauffeur service as we take you on a captivating journey through the top 10 must-see sights in New York. Our expert chauffeurs will guide you, ensuring a seamless and luxurious exploration of the city's iconic landmarks. From the majestic Statue of Liberty to the breathtaking scenery of the Empire State Building, Furthermore, we promise to make every moment unforgettable. Furthermore, let us whisk you to Central Park, where you can stroll amidst nature's beauty and tranquillity.
Our carefully curated itinerary also includes the dazzling lights of Times Square and the artistic wonders of the Metropolitan Museum of Art. Moreover, discover the historic charm of Brooklyn Bridge and the grandeur of Rockefeller Center with our personalized chauffeur service. Furthermore, embrace the allure of New York City like royalty and create cherished memories that will last a lifetime.
New York's Best Chauffeur Company For leisure, Business & Corporate Travel:
GTS Transportation is a well-established chauffeur company based in NEW YORK, specializing in providing professional executive chauffeur services and luxurious car hire throughout new york. With a strong focus on outstanding customer service, they cater to high-net-worth individuals, executives, VIPs, and discerning leisure travellers.
Their elite chauffeurs are highly qualified, reliable, and capable of meeting even the most demanding schedules. Moreover, they have established strong partnerships with organizations.
GTS Transportation Takes Pride In Serving Esteemed Clients:
It Including private jet owners, Quintessentially members, and royal families. Their understanding of discretion and high-level service ensures the utmost satisfaction of their VIP treatment.
Whether for business travel, sports events, corporate functions, evening chauffeur hire, or private airport transfers, their large fleet of top-of-the-range executive and luxury cars guarantees a VIP experience for everyone. Moreover, with excellent customer reviews and Google, they have earned the reputation of being New York's No.1 chauffeur company.
Start: Get Your Car Hire With A Personalized Chauffeur: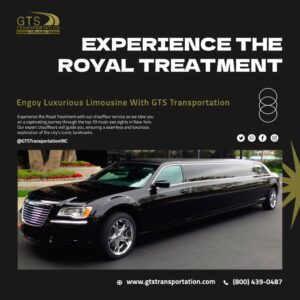 GTS Transportation offers premium executive chauffeur services and luxurious car hire options in New York. We cater to various needs, including one-way transfers, financial roadshows, airshows, corporate and sports events, and private airport transfers. Our fleet includes top-of-the-line vehicles such as Mercedes-Benz S Class, Viano & V-Class 7 passengers. Furthermore, our chauffeurs are highly vetted professionals, ensuring a superior travel experience.
For business trips and international events, having a personal driver saves valuable time and allows passengers to focus on work and plans. The company offers flexible rates, charging per hour for hassle-free customer service. Furthermore, Safety is a priority; all chauffeurs have at least seven years of experience. Moreover, adhering to laws prohibiting device use while driving and knowing the best routes to reach destinations.
Our Executive Service Sets Them Apart:
Providing personalized, well-groomed chauffeurs and a range of SUVs and luxury vans to meet clients' preferences. Furthermore, Clean and well-serviced cars are standard, adhering to government regulations and maintaining sanitation for passenger safety.
Punctuality is a crucial aspect of our service, as drivers arrive 20 minutes before the pickup time, ensuring timely travel even in traffic. All chauffeurs are well-trained and familiar with the roads across all emirates of New York. Moreover, providing reliable and efficient service to clients.
Your Travel Needs And Our Fleet:
How We Stand Out: At our company, we take joy in offering our customers a diverse fleet of vehicles that cater to their specific needs, budget, and event requirements. Our personalized approach confirms that each client receives the perfect car with a dedicated driver.
The Benefits of Having a Driver in New York: Imagine travelling to New York for the first time, unfamiliar with the city's roads and constantly waiting in long taxi queues. Often, taxis take longer routes, resulting in higher fares. However, with a personal driver, you receive professional service without the hassle of standing in line. Your schedule has been efficiently managed, ensuring punctuality for all meetings and events. Renting a car with a driver guarantees a smooth and stress-free experience in the bustling city of New York.
Renting A Car In A Luxurious Way With Pro Chauffeurs:
Experience Executive Travel: Our priority is to cater to our customer's needs, offering a wide range of private and corporate-level fleet cars within their budget. Our service operates 24/7, with well-rested and attentive drivers always available. We understand our clients' demands and strive to exceed their expectations.
Effortless Car Rental with Driver: Enjoy stress-free car rental with a driver in New York, whether for personal or corporate purposes. Leave the car service and maintenance worries to us, as we regularly clean and service our fleet. We specialize in seamless transfers from airports to meetings and hotels, ensuring a smooth travel experience.
Affordable Car Rental: Look no further for cheap car rental with a driver in New York. Whether transporting your children to school or attending a party, we offer personalized cars to suit your event's theme.
Efficient Corporate Event Management: Hire our driver with a car in New York and say goodbye to long taxi queues and parking struggles. With our service, you save time and travel in an organized manner. Furthermore, arriving promptly for your important meetings.
Why Choose Us: Hiring a car with us is a breeze. We prioritize easy and user-friendly payment options for our clients, eliminating unnecessary document requirements. Booking a luxury car rental in New York with our driver is simple and hassle-free, just a contact away. Also, Check our reviews on Google Maps.
FAQS:
How can I book a chauffeur service with your company?
Booking our chauffeur service is easy and convenient. Call our customer service team or book online through our website. Provide your travel details, preferred vehicle, and specific conditions; we will cover the rest.
What types of vehicles do you offer for chauffeur services?
We offer a mixed fleet of luxury vehicles to cater to various needs. Our fleet includes Mercedes-Benz S Class, Viano & V-Class 7 passengers, and Range Rover Vogue Autobiography.
Are your chauffeurs professional and experienced?
Absolutely! All our chauffeurs are highly qualified and experienced professionals. They undergo rigorous training and have at least seven years of driving experience. Furthermore, rest confirm; you will be in safe hands.