Luxury Car Service In New York: Experience The Height Of Comfort And Style-Car Service To New York:
Luxury Car Service to New York, we pride ourselves on providing our valued customers with comfort and style. With our unique fleet of luxury vehicles and our professional drivers, we offer an experience that goes beyond transportation. By selecting our services, we ensure that every feature of your trip is carefully planned and perfectly executed. Our team tries to exceed your expectations, from airport transfers to corporate events or special occasions. Furthermore, we know the importance of elegant travel, so we carefully maintain our vehicles to ensure a smooth and luxurious journey. Whether you are a business traveler or a discerning individual seeking an unparalleled experience, we are here to meet your needs. Furthermore, experience the ultimate comfort and style with GTS Transportation Luxury Car Service in New York and allow us to elevate the quality of your transportation services in New York.
Explore Car Service In New York City With Style: Sightseeing And City Tours With GTS Transportation: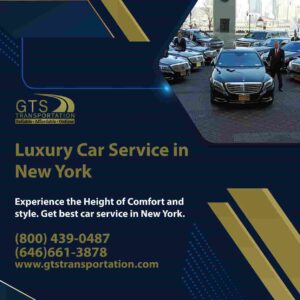 Visiting the bustling city of New York should be an experience of comfort, luxury, and style. Our impeccable car service offers an unparalleled opportunity to explore the Big Apple's famous attractions and hidden gems in the utmost comfort and style. Our professional and knowledgeable drivers drive us. Furthermore, our fleet of carefully maintained vehicles allows you to sit back. Moreover, you relax and immerse yourself in the beauty and energy of the city. Whether you're touring Times Square, strolling through Central Park, or admiring the architectural wonders of the Brooklyn Bridge. We'll do our best to enrich your sightseeing trip. Moreover, with GTS Transportation, every moment becomes an unforgettable memory as we cater to your unique needs and preferences. Furthermore, it makes a trip to New York a unique and truly memorable experience.
Explore The Big Apple In Comfort And Elegance With Our New York Car Services:
We invite you to travel through the busy streets and famous landmarks of the Big Apple in an atmosphere of comfort and elegance. Furthermore, our New York car services are designed to offer you a once-in-a-lifetime experience while exploring the bustling city, whether you're a visitor looking to discover the city's hidden gems or a resident looking for a luxurious way to get around the urban jungle.
Our Dedicated Team And Carefully Maintained Fleets:
From the moment you step into one of our luxury vehicles. Furthermore, you will feel the atmosphere of elegance and sophistication surrounding you. Moreover, well-versed in the intricacies of the city. Again, our professional drivers will navigate traffic and ensure a smooth. It includes a stress-free journey, leaving you free to relax and enjoy the scenery. Moreover, let us be your trusted companion to experience the magic of New York in a truly extraordinary way.

If you have any questions or reservations or want to learn more about our excellent New York car services, please don't hesitate to contact us via email or call us. Our dedicated team is on hand to offer advice and assistance to ensure your transportation needs are met to your complete satisfaction. We also encourage you to check out our reviews on Google Maps, where you can read first-hand accounts from satisfied customers who have used our services.
So, who would like to miss out on such benefits? Book us now
Q. What types of vehicles are available in New York auto repair shops with GTS Transportation?
GTS Transportation offers a diverse fleet of carefully maintained vehicles. It includes luxury sedans, SUVs, and vans to ensure we have the perfect vehicle to meet your needs and preferences.
Q. Are the drivers experienced and familiar with New York?
Of course! Our drivers are professional, experienced, and master the streets of NYC. They have extensive knowledge of the city's landmarks, attractions, and best routes. It ensures you have a smooth and enjoyable experience.
Q. Can I customize my New York tour with GTS Transportation?
Sure! We understand that every traveler has unique preferences and interests. Furthermore, we offer the flexibility to customize the trip to specific needs, whether you have particular attractions to visit or prefer a detailed itinerary.